Cobras Hold On, Defeat Bulldogs 35-28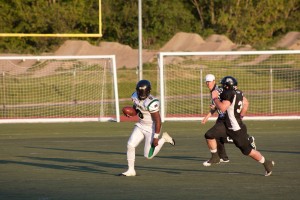 photos by Rob Scott

By Dave Stanley
BELLINGHAM, WA – MAY 12, 2012 – The Tacoma Cobras survived a scare Saturday evening, but they emerged victorious, 35-28 over the Bellingham Bulldogs. Entering the game, both squads were undefeated, and the match up was every bit as intense as you'd expect, although it didn't start out that way.
Early in the second quarter, it was business-as-usual for the Cobras, as Nathan 'Big Tank' Proctor's rushing touchdown made it 28-0. The Bulldogs had other plans, however, as a simple blocked field goal began a furious rally of 28 unanswered points.
Cobras quarterback Kenny Jackson, who usually uses his athleticism to elude pressure, found his rushing lanes limited by the disciplined Bulldog defense. When receivers weren't open down field, he didn't have room to run, and was beginning to look rattled as the first half drew to a close.
Jackson and the Cobras bounced back, however, showing toughness and poise that championship teams need to have, especially in a hostile stadium. When the air attack—which saw wide receiver Mike Waller nab two touchdown passes early on—floundered, the running game and defense picked up the slack, with both making key plays down the stretch.
With the Bulldogs driving for what would have been the winning touchdown, linebacker Mario Haley sacked Bellingham quarterback Cody Oakes, forcing a fumble that running back/linebacker Ammar Othman returned to the five yard line, setting up Proctor's score, what ended up being the go-ahead touchdown. Cornerback Lorenzo Caldwell's interception of Oakes sealed the victory with 52 seconds remaining.
It was an unusually heated match up, rife with personal foul calls, even on the coaching staff. Offensive coordinator Keith Jones was tossed just before the first half ended when he showed the referees photo evidence of a botched call.
"I didn't yell, I didn't cuss," said Jones. "[But] they don't like to be wrong."
In the end, the victory was all that mattered, as linebacker Paul Stevens aptly summed up. "It's an emotional game," he said. "We had to leave it all on the field." read full story
The Cobras continue their road trip, taking on the Pacific Islanders in Eugene, OR next Saturday, May 19th. Stadium, TBA, kickoff is at 7 p.m. Colfax High School Stadium 1110 North Morton Street Colfax, WA 99111
By tacomaco