Cobras Hold On, Inch by Inner City Shine, 17-12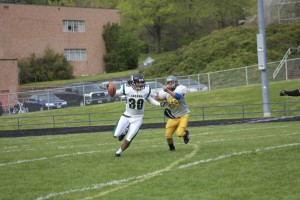 DAVE STANLEY

PORTLAND – April 28, 2012 – The Tacoma Cobras had their first true test of the season, emerging victorious over the Portland Inner City Shine 17-12 at Marshall Stadium.
"You're not going to win every game by 60," said coach Dave McEachern. "We got the 'W'."
It was apparent from the outset that the Cobras had their work cut out for them, as the Shine had a playoff-like intensity. They played and acted as if NFL Films was present, uttering nasty epithets the Cobras' way that would make Ray Lewis blush.
Tacoma moved the ball decent enough, scoring a touchdown and a field goal in the first half. Portland was able to move the ball as well, but the Cobras defense held, and their drives regularly stalled outside of field goal range.
Early in the third quarter, the Cobras expanded their lead to 17-0, but that's when the Shine made things interesting.
Helped by a few Tacoma penalties, the Shine found their way into the end zone through the air, but failed on the two point conversion attempt.
The Cobras' Ammar Othman—who otherwise played a great game—coughed up the ball on the ensuing possession, and the Shine yet again converted it into point. And yet again, they failed on their two point conversion attempt.
The pattern continued, as Nathan "Big Tank" Proctor—Tacoma's tour-de-force running back—also fumbled, giving Portland one last shot. They turned it over on downs, however, and the Cobras ran out the clock.
Next up for Tacoma is a Saturday (5/5) home date with the Pierce County Bengals, 7 p.m. at Franklin-Pierce Stadium.
By tacomaco