GAME DAY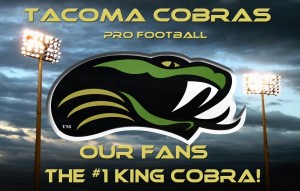 The #1 Cobra Fan flag will be first introduced in 2012 as part of the Cobras' 4th Season Celebration. Franklin Pierce Stadium will be the home of the Tacoma Cobras. '#1' flag represents the loyalty and strength of the Cobra Stadium faithful.
Tacoma Cobra Football fans know there are 11 players on the field in the game. But the #1 and most important player is in the stands. The Cobra Nation is the #1 King Cobra!
Each game, a person or group of people is chosen to raise the #1 Cobras flag. The flag commemorates the Cobra fans and thanks them for their support. Once the flag has been raise, the Cobra Nation is "in the house" and the game can begin.
HOME STADIUM RENTON MEMORIAL STADIUM