Press Releases
PDFL's Tacoma Cobras' Eager to Begin Season
Home Opener Set for Saturday, 7p.m., to Feature Several Ex-Division I College Stars
TACOMA, April 16, 2012 — The Tacoma Cobras open their home schedule at Franklin-Pierce Stadium at 7 p.m. this Saturday against the Puget Sound Outlaws. Their first game, a 34-0 trouncing of the Palouse (WA) Thunder, was in Colfax, WA last Saturday (4/14). The Cobras, in their fourth year of existence, play in the Professional Developmental Football League(PDFL). Saturday marks the second of a 12-game schedule that sees them playing teams from throughout the Northwest and West Coast.They are coached by Dave McEachern.Tacoma's roster is rife with talent, featuring Manase Hopoi, Darrion Jones, Chris Izbicki and Eric Guttorp (UW), Ryan Kimbrough (Arizona State), Kollin Hancock, Mike Waller, Brandon Stout and Jerome Williams (CWU) Tyler Vlasak( University of Puget Sound) Lorenzo Caldwell (New Mexico St.) Justin Jordan (Oklahoma State), Ryan Wood (Nebraska), Easton Johnson, Izaiah Barsh, and Paul Stevens (all WSU) among others."The main thing is getting a chance to play again," the ex-Husky Jones told QuickFixSports.com in January, after the Cobras' scouting combine. "And if I can get a chance to take it further than that, I'm all ears…it'll be a great thing."Tickets for the game are $18 for adults, $12 for college students (with ID), $8 for children 12-17 ($5 with student ID), and for children 11 and under there is no charge.The first 500 fans Saturday will receive a free Tacoma Cobras tee shirt to coincide with "White Out Night."Franklin-Pierce Stadium is located at 11002 18th Avenue East, Tacoma, WA (98445).For more information, call (253)-590-6159 or email [email protected].
:
Tacoma Cobras Team Up With XSI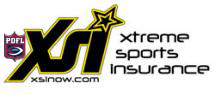 The Tacoma Cobras has partnered with XSI Sports Insurance to provide affordable health insurance to its coaches and players. XSI Sports Insurance covers injuries on and off the field, and plans start at just $15.40 a month. If you're injured, XSI Sports Insurance can help cover hospital bills, rehab costs, ambulance rides and more. In addition, XSI Sports Insurance pays benefits directly to you! For more information on XSI Sports Insurance, visit xsinow.com.