Operation Battlefield For The Cobras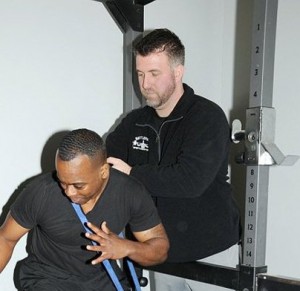 The Tacoma Cobras will start workouts with new Strength Coach Nick Vujnich. Nick Vujnich is the Owner and Director of Athletic Development at Battlefield Sports Conditioning in Tacoma, WA. His mission is to provide comprehensive, results-driven athletic development training that allows athletes to excel at their next level of play.
He is known for utilizing unconventional training methods to help his clients reach their peak potential in speed, agility, quickness and explosive power. He is a Certified Personal Trainer with specializations in Sports Injury; Sports Nutrition; Biomechanics; Speed, Agility and Quickness; and Functional Training. He also attended Frappier Acceleration Sports Training in St. Louis, MO.
He played varsity football and was his High School's Team Captain. He went on to play NCAA Division III football at Washington University in St. Louis, MO. He was the recipient of an Army ROTC Scholarship and became an officer in the US Army, spending 8 years leading, training and mentoring soldiers. He finished his military service supporting 1st Special Forces Group (Airborne) during Operation Enduring Freedom (Afghanistan). While in service, physical training remained his passion. He earned the Gold German Armed Forces Efficiency Badge that tests the physical performance of soldiers. He was also a graduate of Airborne School at Fort Benning, GA.
He has 15 years of experience in leading, coaching and mentoring all types of athletes to perform at the highest levels of physical fitness under the most strenuous of conditions. Currently, he trains athletes of all ages using his proprietary training programs offered only at Battlefield Sports Conditioning in Tacoma, WA.
If you have questions about his Speed and Strength training programs, or are interested in his Off-Season Indoor Football Passing League, please contact him. He can be reached at 888-584-0606 or [email protected]
By tacomaco